About Palægade
Restaurant Palægade places great emphasis on classic quality open-faced sandwiches for lunch and a classic Danish/French expression for dinner.
The restaurant first opened in 2016 and has quickly become a cornerstone of the Copenhagen lunch scene.
The premises burned down in early 2020 and the restaurant has since been rebuilt and perfected down to the smallest detail.
Owners of formel B, Kristian Arpe-Møller & Rune Amgild Jochumsen, set out to revive the restaurant from the ashes.
To manage the daily operations of the "new" Restaurant Palægade, Rune and Kristian looked to their own ranks, where the two talented friends, Luckas and Johan, were ready.
Both have a history at Restaurant formel B, and their shared story goes all the way back to Hotel and Restaurant school where they ended up in the same class as culinary apprentices.
To strengthen the lunch team, an experienced capacity was brought in. Gustav Vilholm was, and still is, the man to take on the task as Lunch Manager at Restaurant Palægade. Gustav is an experienced gentleman in the restaurant industry, and his knowledge and skills are a great asset to the entire team.
*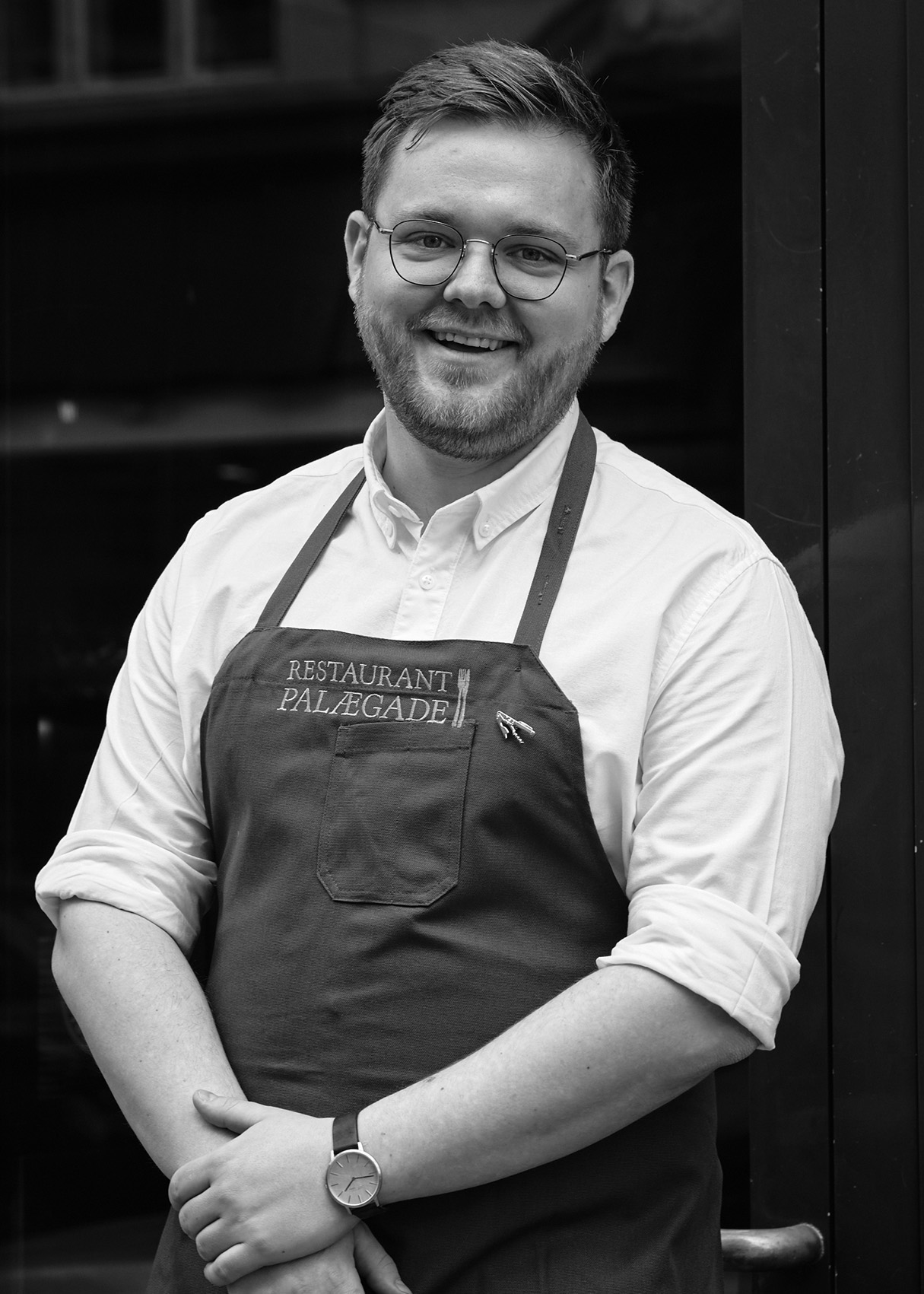 JOHAN HENRIK KIRKETERP-MØLLER
Johan Henrik is the Restaurant Manager and co-owner of Restaurant Palægade.
He is a trained chef from Restaurant formel B, and after a few years as a chef at places such as Stammershalle Badehotel and Hotel Nordlandet on Bornholm, as well as a stint in Paris at Restaurant Copenhague, he was drawn to new challenges on the other side of the kitchen.
Rune Jochumsen was ready with an apprenticeship as a waiter at formel B, so fate would have it that Johan Henrik returned "home" to become a waiter.
After completing his education, Johan Henrik's career as a waiter took him past Restaurant Kadeau both on Bornholm and in Copenhagen, as well as a period at Restaurant Anarki, before the opportunity arose to take the helm of the reborn Restaurant Palægade as Restaurant Manager and co-owner.
Johan Henrik's quest to improve himself has resulted in him passing the Wine Academy already during his apprenticeship, and he is now well on his way to completing the WSET Level 4 Diploma, a sommelier training at a high international level based in London.
His love for wines from both Burgundy and Piedmont is great, something that the cellar also bears its clear mark of, but he constantly seeks out wines made by young winemakers who challenge traditions and make wines outside of the norm.
LUCKAS BO SCHULTZ JENSEN
Luckas is the head chef and co-owner of Restaurant Palægade.
Despite his young age, Luckas has an impressive resume behind him and undoubtedly an even brighter future ahead of him. He has worked at Alberto K, Grønbech and Churchill, Fischers, Nordlandet, Restaurant Niels, and most notably, Restaurant formel B.
Luckas started at Restaurant formel B in 2018, where he quickly found his footing and began to show the immense talent that caught Kristian and Rune's attention when the opportunity arose for him to lead the revival of Restaurant Palægade's kitchen.
Together, Luckas and Kristian have created the foundation that will define Restaurant Palægade's cuisine for the future. A cuisine for food-loving guests who appreciate the quality of ingredients, the consistent taste, and above all, simplicity.
Today, the kitchen boasts both award-winning open-faced sandwiches from the top shelf for lunch and a full-flavored, award-winning dinner kitchen.
The fundamental philosophy of the kitchen is; no dogma, but with great respect for history, traditions, and a focus on approachability and high quality.